So I keep learning as I try to make these reviews informational and entertaining for everyone, so I have added the size and wrapper/filler.
I present tonight's victim...
Diablo Picante 5x40
W: Ecuadorian Sumatra
F: Nic and Dom
Nice tobacco aroma with a bit of cedar coming through. Cigar looks great. Nice dark color with some veins. Cap looks well constrcuted.
Cigar lit easily with my Nibo Dual Flame.
3 minutes in...
Very earthy flavor to start with just a little spice to make it interesting. Draw is firm but not too tight. Nice amount of smoke, you can just make in out in some of the pics. the burn has started off nice and straight.
10 minutes in...
Spice is still there, becoming cinnamony. Ash is smoky gray and holding nicely. Draw is sitll good and it's a smoky lil' bugger.
20 minutes...
Ash is still holding solid. Has definitely developed a peppery kick and the cedar aroma noticed at the beginning is coming through a little more now. Ash dropped 2 minutes later. Had a burn issue after the ash dropped, touched up and back to burnung great.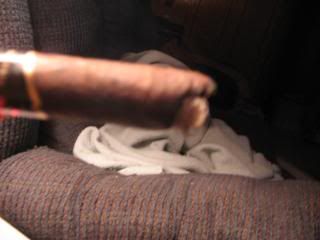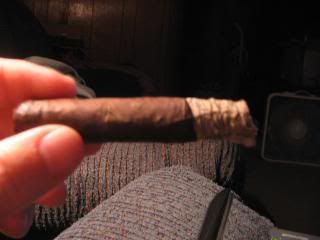 Picking up more spice now. Accidently snorked and actually got a really nice cinammon taste, after my eyes quit watering
.
30 minutes in and we have spiced up quite a bit. Draw is still good and I am still getting a good amount of smoke. As you can see, ash is holding nice and is still light gray in color.
37 minutes and we're done.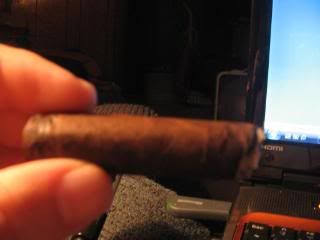 Ashed it and it turned harsh. Burn had started to turn a little ragged. even thought the taste has harshed up, I was still getting a nice cedar aroma through my nose while drawing. The finish is a little peppery, which may be more harshness than spice.
This was a cigar that I had enjoyed late last year and then they got lost in the stick tetris that are my humidors. It's nice to find these little surprises every now and then. While the size is not one I noramlly enjoy, I liked this one for a nice change of pace and for a shorter smoke than I usually take.
I give it..
3 1/2 illinoishoosiers out of 5.
Keep commenting and giving me suggestions to make it better.